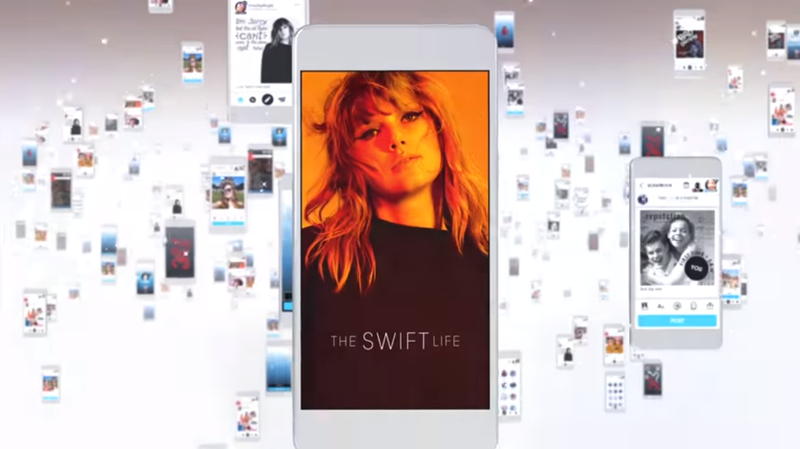 Taylor Swift is omnipresent like the Wizard of Oz, and you'll soon be able to have more than just her music on your phone.

This morning, she announced plans for a new app called The Swift Life, coming to a mobile device near you sometime later this year. (Shouts to Jezebel's Hazel Cills for calling this last year in a piece for MTV News.) It's still unclear at this point what the app does or what makes it appealing. Based on a brief first-look clip, it seems like you can peruse exclusive Taylor posts, get Taylor-specialized snake emojis, and dissect lines like "the world moves on another day, another drama, drama" in real time with other fans who tolerated the Reputation singles. As The Verge points out, it comes from Glu, a company that's spearheaded other dubious celebrity companion apps, such as Kim Kardashian: Hollywood, Katy Perry Pop, and Britney Spears: American Dream.
Buzzfeed also recently noticed that Swift, or at least someone with login access to her account, has been lurking in her fans' Instagram livestreams, leaving comments and emojis, voting in polls, and prompting fan freakouts. It seemed like some more stealthy PR outreach, but maybe she was just thoroughly scouting the competition? Will she match Beyoncé and Jay-Z's undying commitment to Tidal and delete her other social media accounts, driving any and all superfans to The Swift Life? Probably not! But if it becomes a platform for her to, say, debut a new single or share her next music video, there might be more of an incentive for casual fans to download than with Glu's other efforts.
At the end of her clip, we get some more of that Swiftian comedic timing, which she debuted in 2010's Valentine's Day. "I think you guys are really gonna like this. I mean, I hope. It would be preferable if you did."