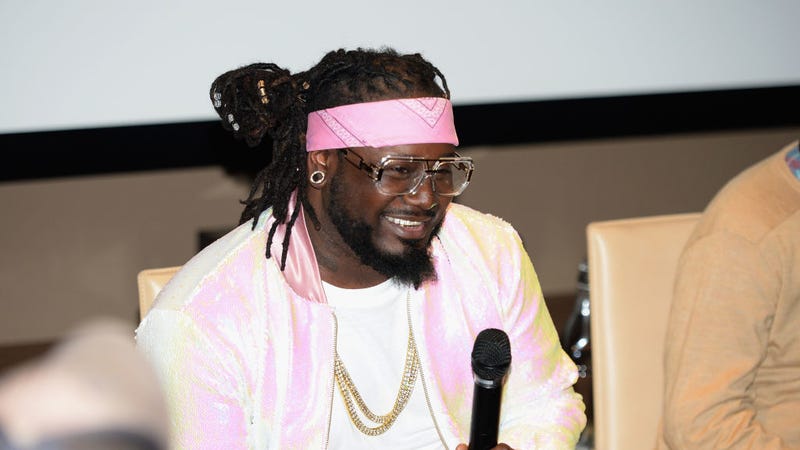 T-Pain's viral Tiny Desk appearance from nearly three years ago revealed to everyone who wasn't already convinced that, yes, he can actually sing without auto-tune. But besides a pair of mixtapes, including the long-awaited T-Wayne collaboration with Lil Wayne, and some singles here and there, he hasn't put out a full-length album since the performance. That all changes next month, with one of the most frustrating album titles of the year.

Over the weekend, T-Pain announced that ObLiViON, his first record since 2011's Revolver (tastefully stylized as rEVOLVEr), is due out on November 17. Complex points out that this isn't necessarily a new development, since he first announced the date in August—this just seems to confirm that it's really coming.
But let's talk about the capitalization. Many great records and artists from this decade have made some batshit typography choices. (tUnE-yArDs gets the gold medal.) Some have slight thematic relevance, like Kendrick Lamar's good kid, m.A.A.d city; others just look cool and fit the pronunciation used on its title track (hello, E•MO•TION).
There's also the category of "this doesn't make any sense and is a pain to type out": A Tribe Called Quest's great We got it from Here... Thank You 4 Your service fits the bill. As does Fall Out Boy's upcoming album, which is so insane that our blog host won't even allow me to type it properly. (It's M A N I A, with an ascending number of spaces between each letter).
Unfortunately, T-Pain's comeback falls into the latter category. If we write any more posts about T-Pain in 2017, we'll be stylizing it as Oblivion, as any sane person would type it. Check out a charming Instagram post about T-Pain listening to his own album, along with its latest single, "Goal Line," below.