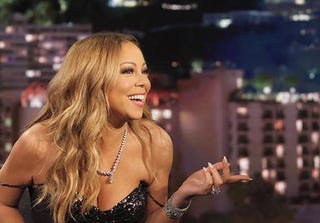 From Janet Jackson's nip slip at the Super Bowl to Britney Spears' scandalously lethargic performance at the 2007 VMAs, America loves a pop diva meltdown. When a female star is caught in the middle of a production that's gone off the rails, the comment sections and morning shows erupt with questions. Was it an accident? Did she plan to go viral? Is she over? The aftermath can often turn into an authenticity witch hunt, with moralistic demands for explanations followed by melodramatic Oprah sit-downs and rehearsed apologies.
Mariah Carey turned into a lightning rod for this moralism after her appearance on Dick Clark's New Year's Rockin' Eve Special. It started out with Auld Lang Syne, one of her New Year show staples, which Carey appeared to uneventfully lip-sync. But after the music transitioned into her 1991 hit "Emotions," which she was reportedly going to perform live, her earpiece malfunctioned and she couldn't hear the backing track. Instead of singing, she walked around onstage and talked to the audience, as if halfway committed to completing her choreography—the human version of the shrug emoji—as her dancers dutifully glided and spun around onstage.
The mess-up has been parodied over and over, and it's also been called a fitting end to a rocky 2016, if not a harbinger of what's to come. Some have seen the backlash against Carey as just another expression of the public's frustration with Trump-era falsehoods and fake news. But the reaction to Carey's messy New Year's Eve moment also raises questions about the meaning of authenticity in pop stardom, and about the arbitrary—and gendered—ways we assign it.
It's important that Mariah Carey's New Year's Eve performance unraveled when "Emotions" started playing, because that track is nearly impossible to sing live. The '90s dance hit was written, produced, and designed by Carey to demonstrate her extensive vocal range. And while some might mock its simple lyrics (You've got me feeling emotions), the beauty of the song lies in the versatility of the vocals.
There is a moment towards the end, as Carey sings "You make me feel so high," when most of the background music drops out and she soars from an E5 to a C7 on the word "high." When performing the song live in concert, she jumps right to the C7 note, but in the studio version, she carefully hits each note on her way up. It's a feat of operatic scale-climbing, coming to an end in a whistle register scream (not unlike the one in Minnie Ripperton's "Loving You").
Carey has never fully reproduced this moment live because it is physically impossible to do so outside of a studio setting. (In her early years she was able to do part of it at the end.) The song is part of a disco tradition less concerned with live performance and more interested in creating musical atmospheres through studio wizardry.
But this is precisely the accusation against pop divas: that they are fake products manufactured in studios. Carey, by her own admission, came into the music industry as a shy studio nerd and not as a performer. She carefully crafted the demo songs that got her a major record deal, but her sole performance experience before getting signed to Columbia Records was as a background singer for Brenda K. Starr.
Carey was always more focused on songwriting than on creating memorable moments onstage. Even after releasing two studio albums and six No. 1 singles by 1993, she never toured. In 1992, amid the Milli Vanilli-inspired industry-wide panic about lip-syncing, she did an MTV Unplugged show, to "prove" that she could sing live. When she went on the road in the mid-to-late '90s, she only did a handful of cities each time—not as an actual money-making venture, but as a gesture for her fans.
The reasons given for Carey's hesitance to tour—partly a result of stage fright and partly because her songs demand a vocal workout incompatible with a strenuous touring schedule—failed to convince many critics. In fact, throughout the initial phase of her career, this prompted accusations that she was a corporate invention, especially after her marriage to Tommy Mottola. Carey had to get comfortable being onstage to be taken seriously as a performer, and yet her efforts to develop a captivating stage persona—often taking the form of campy diva commentary—discredited her in the eyes of many. She is both too much and not enough of a showgirl.
Whatever happened on New Year's Eve—Carey's manager and Dick Clark Productions have blamed each other—live performance has never been Carey's strong suit, and this has always created suspicion about her. If the current snafu hadn't happened, the media would have invented it. And in some ways it has.

Despite the skepticism about her current vocal abilities, Carey has actually performed "Emotions" multiple times live recently, just in a tighter range. During her New Year's Eve special, her backing track included vocals for some of her whistle register moments—suggesting she was going to sing the rest of the song live. And after her earpiece malfunctioned, she asked for the earpiece or monitors to be fixed, but when nothing happened, she continued interacting with her dancers, smiling sarcastically and trying to keep the show going. And she did.
Instead of storming offstage, she improvised, giving campy commentary on what was happening, mocking the pop paraphernalia she has to engage with. "Just for laughs, let's do the lift," she told the dancers. During the final song, her big ballad hit "We Belong Together," she suddenly stopped miming to exclaim "Yasss! Bring on the feathers," and ended the performance framed by an extravagant circle of white.
If the synchronized back-up dancers, the feathers, and the nude corset have all been carefully reproduced in parodies, it is because our fascination with pop divas is precisely about their feminine excess, as well as their choreographed, quasi-robotic perfection. This is why off-script moments produce so much rejection, and why the rejection takes on such a gendered tone.
Part of the moralistic outcry against Carey's non-performance ("Put some clothes on and sing!") is a reaction against her embrace of the feminine trappings of stardom, like bedazzled corsets. In truth, Carey eschewed this earlier in her career, but came to accept it as a necessary part of being a touring pop star. As her onstage commentary suggests, she has a partly ironic relationship to these objects. Of course, rock musicians are never expected to perform with feathers: They can just sit or stand onstage and sing. They can be music nerds. Carey was not afforded that luxury. Today, she isn't known for being a studio prodigy who had trouble communicating her passion onstage; she is accused of using the feathers and corsets and glitter to distract from her "terrible" singing.
The ultimate paradox is that Carey is seen as inauthentic precisely for her inability to play a full-on pop diva, to seamlessly create the illusion of authenticity—and it is always an illusion, no matter how dressed-up (or down) the set and performer are. Perhaps it was Carey's frustration with such expectations that prompted her, in the midst of the backlash, to defiantly maintain her show-must-go-on stance while everything fell apart around her. After midnight, she tweeted a .gif of herself shrugging, along with the message: "Shit happens...Here's to making more headlines in 2017." For a pop diva, that was pretty rock and roll.