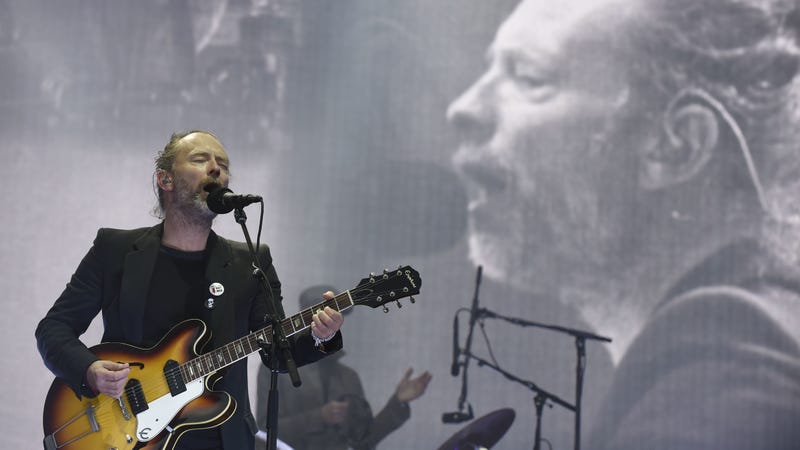 CDs were a big deal in 2007. Or at least that's what the initial press following Radiohead's landmark pay-what-you-want album, In Rainbows, would have you believe. "The band think they [are] incredibly proud of this record and feel that it deserves to be brought into the mass marketplace," Chris Hufford, one of the band's two long-term managers, said back in 2007. "That's why we need a record company who have that infrastructure to deliver the CD." Even if the album was available for free online, a major label held the key to potentially reaching an even greater audience. Ten years after the release of their seventh studio album, Radiohead's interest in physical distribution might seem quaint, but that tension rings louder in a post-streaming ecosystem.

In 2003, the band released Hail to the Thief, its final contracted major label album for EMI. Rather than re-up or find a new label, the band stuck it out on their own. That freedom certainly helped on October 1, 2007, when they announced In Rainbows with a whisper on their official site. Facebook and Twitter didn't yet carry enough weight for a band to communicate with their fans.
It was effectively a surprise album, released with only nine days notice. But 2010s surprise albums often reorient listens toward a platform—Apple Music and Tidal in particular—rather than the artist. The conversation is not about buying a product, but instead: "Is a Tidal subscription worth it for a single album?" In Rainbows wasn't looking to hook listeners into a recurring fee; it was a collection of potentially free MP3s with only one legal space to purchase them. Radiohead regained control over their own music destiny and then caused the rest of the music industry to closely follow what would happen next.
That might be why there was so much intrigue about what the band would do with a physical release: Would they handle it themselves? Partner with another label? Sign to another major label? The CD and, to a lesser degree, the digital album, were the only markets of measuring an album's success. If Radiohead wasn't going to enter those industry approved metrics, then it just raised more questions that only the band themselves could answer. Despite Spotify's self-serving marketing, the music industry's always been obsessed with numbers, not only in money, but in number of hits and chart position. It's a space where obsessing over numbers is not only expected, but encouraged.
Regardless of the official early numbers it was clear that In Rainbows achieved its task of not just poking the music industry, but corralling fans toward a single moment. Communal listening habits gradually shifted from records to CDs to downloads, and with Radiohead offering a free option for the album, their audience potentially could've been anyone with an internet connection.
In 2017, that's the norm. But when Radiohead released In Rainbows, listeners might've needed to pay money or hunt for the right site to illegally download an album. Now it's all legally available to us. That great flattening of the field sparks more consumption—whatever's on Spotify's New Music Friday each week—but it effectively neutralizes a lot of conversation around music. If ten records are released with no barrier to access, what's the point in arguing about the minor details and merits of each album when you can move on to consume the next one?
Radiohead's entire career refutes such over-consumption of music with how they've created moments around each of their album releases. The techno-fear state of OK Computer, the radicial sonic shift of Kid A, and seemingly every album after these milestone records toyed with the inflated expectations they help create. The event album is certainly not a new digital idea, but when people are no longer voting with their wallets but instead with their time, the same ideas of creating a moment still hold true.
Ten years later the pay-what-you-want method of delivery was wholly subsumed by Bandcamp, and in a sense became the face of artist friendly commerce; the major labels increasingly operate in a streaming-first direction. Critics who saw Radiohead as further degrading the value of music were not wrong, as it turned out most fans didn't pay a cent for the album. But rattling the cage of the digital download ecosystem reflected how the market was often not meeting the public's demands.
Eventually In Rainbows was released through TBD Records, selling 122,000 copies and topping the Billboard 200 in its opening week. Hufford was proven correct in assuming there was an audience who wanted something beyond free MP3s. The strong opening week didn't signal the strength of physical media, but rather how many people would follow the music industry's rules even if their favorite band was actively rewriting hem.
Now in a major label post-streaming world, Radiohead's initial gambit no longer feels quite so bold. Ten years after their choice to release In Rainbows for pennies, it feels like the internet is both vaster and smaller. The number of users might have increased, but the number of spaces for communication seem to be shrinking. That might've been why the band purged all of their social media output in the lead-up to last year's A Moon Shaped Pool, even if the album was available on every streaming, download, and physical media platform. The band still saw value in not obeying every rule of the road.