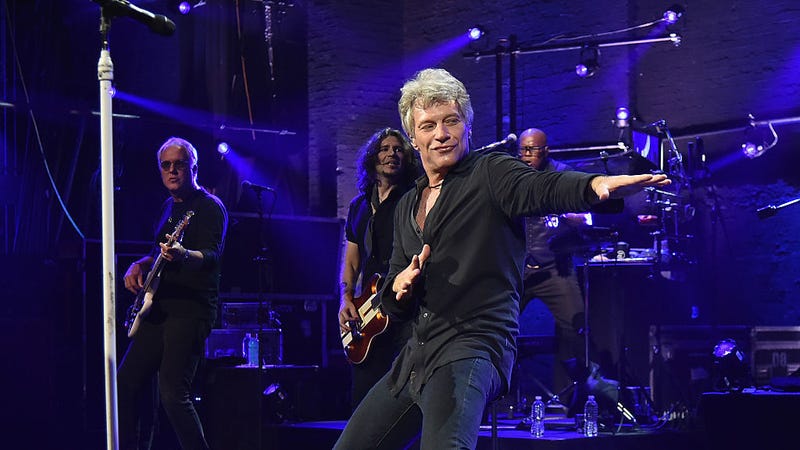 After nine years of eligibility, Jon Bon Jovi is probably taking his steel-horse-riding, Jersey-cowboy ass to the Rock and Roll Hall of Fame next year. Today, the Rock Hall announced the five finalists of their fan vote, with Bon Jovi coming out on top. This on its own doesn't technically give the band much of a leg up on the other nominees—the fan vote is submitted as one ballot, equal in value to any of the other 900+ voters' input. However, Blabbermouth points out that since the fan vote was instituted six years ago, each of the poll's winners were inducted that year.

If you're Bon Jovi or a fan of Bon Jovi, this is good news. Say what you will about John Francis Bongiovi: He's not without some hits! Which, to be fair, is all that really matters in the eyes of Rock and Roll Hall of Fame voters. There's a reason why, say, Journey gets in before Sonic Youth, The Replacements, or Kate Bush. Greatness and ubiquity become conflated when you run a business that welcomes roughly 500,000 visitors per year.
Bon Jovi, the man, has also been pretty forthcoming about his Rock Hall snub (exclusion?) over the years. In October 2016, he sat down with Howard Stern soon after being left off the shortlist for induction in 2017. He claims that they've been left out of the Hall after he had a falling out with one high-ranking member on the committee who may or may not be former Rolling Stone publisher and Rock Hall chairman Jann Wenner (ah, that's why the Rock Hall currently has a huge two-story Rolling Stone exhibit, hmm). Anyway, without naming names, Bon Jovi ripped into the guy on Stern's show (via NJarts.net):
"I called (the guy I had a falling out with) a few choice words, and I'm never shy, when I see him, to call him a few more choice words. And there's other guys on that thing that have made it their personal mission to fuck with me. And that's okay. I get it. I've sold more records than their artists."
Bon Jovi also boasted about fitting "every criteria" the Rock Hall's looking for (according to him, "that your music had an influence on generations that came after you, and that it's still out and very present").
While we wait to see if the Rock Hall committee will continue to fuck with Bon Jovi (inductees announced on December 13), revisit the last time I'd seen the future-Hall of Famer: doing rock star stuff with a former-future-president: