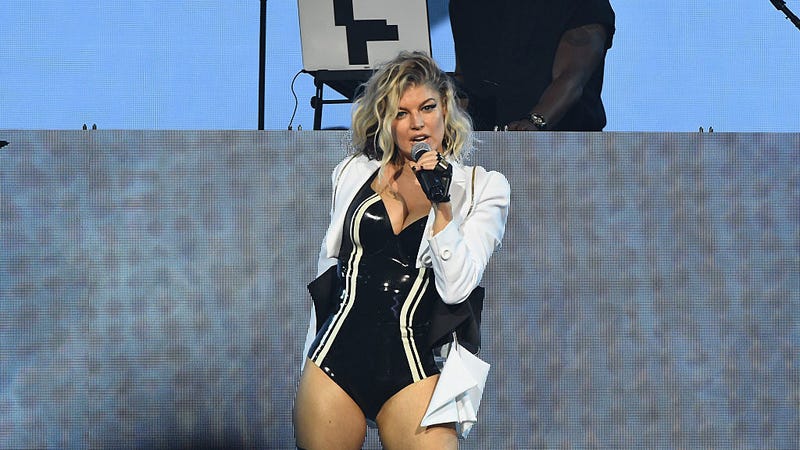 The press campaign for Fergie's first album in 11 years, Double Dutchess, has gone on for so long, it's hard to remember when it came out (September 22, I did the work for you). Her follow-up to 2006's The Dutchess hasn't made as much of a dent on the charts as I'd have expected, since Taylor Swift basically took a Fergie single to No. 1 in 2017, but you always like to see a long-delayed project from an under-appreciated star come to fruition.

She's still giving interviews in support of Double Dutchess, and recently sat down with the UK's iNews for a candid talk that covers everything from taking her son to play dates with Kanye West, Kim Kardashian-West and baby North West to Hollywood's plague of sexual abuse. At one point, she also opened up about her struggles with crystal meth addiction before joining the Black Eyed Peas in the early 2000s. This is something Fergie's talked about before, as early as 2006 with Time, but has brought up sparingly in the years since. She says that, at its worst, she hallucinated on a daily basis, and once was convinced the CIA, FBI, and a SWAT team were tracking her during a church service:
"They tried to kick me out, because I was moving down the aisles in this crazy way, as I thought there was an infrared camera in the church trying to check for my body. I bolted past the altar into a hallway and two people were chasing me.

"I remember thinking: 'If I walk outside, and the SWAT team's out there, I was right all along. But if they're not out there, then it's the drugs making me see things and I'm going to end up in an institution. And if it really is the drugs, I don't want to live my life like this any more, anyway.' I walked out of the church; obviously there was no SWAT team, it was just me in a parking lot. It was a freeing moment.
But Fergie credits this period, however trying and dispiriting, with giving her strength and motivation to forge a new path forward:
"The drugs thing, it was a hell of a lot of fun… until it wasn't. But you know what, I thank the day it happened to me. Because that's my strength, my faith, my hope for something better."
Drug abuse remains an unavoidable problem across multiple genres in the industry, so anytime a star reflects on how she's emerged on the other side with her health intact, it might offer a glimmer of hope for anyone else who might be battling addiction.